Crafted to help new shredders develop their skills quickly and as frustration-free as possible, the K2 First Lite Snowboard features a smooth, intuitive Catch-Free Rocker Baseline™ that significantly reduces your risk of catching an edge while also making turns effortless. The soft flex rating makes for a forgiving experience that's playful and fun even after you've established the basics. Make light of the learning process and experience the joys of sliding down mountains with the K2 First Lite Snowboard.
ROCKER TYPE
Catch-Free Rocker Baseline™ – By bringing the contact points out of the snow, turns happen before the edge bits and – voila! – No catch. This small amount of rocker results in more confidence throughout the learning curve and unlocks faster progression on all terrain.

FLEX
Flex Rating – 1 (1 Soft – 5 Stiff)
SHAPE
Tapered Directional
CORE
Aspen Core – K2's W1 core is characterized by a single species of pure wood with proven flex, durability, and snap. This is their standard core for entry to mid-level boards.
Full Wood Core
LAMINATES
Biaxial Glass – Glass runs north south and east west in the board. Biaxial boards are not just for beginners, they're great on rails, in urban settings, and in the park due to their forgiving nature.
SIDEWALLS
Hybritech™ – An efficient way to make a snowboard without sacrificing one ounce of performance. This construction features sidewall along the running surface that flows into the nose and tail to provide low swing-weight, optimized turn initiation, and durability.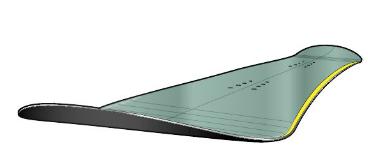 BASE
2000 Extruded – This base material is fast in a variety of conditions, it's easy to maintain and exceptionally durable.
BINDING COMPATIBILITY
2 x 4 Insert Pattern